Grove Zero - Color Line Follower
The Color Line Follower is an input module which detects line and colors on the surface beneath it.
Module Category: Input
---
What Is It
The Color Line Follower is an input module which detects line on the ground and reognises the colors it sees on the surface beneath it. By connecting it to the chassis module, it can be turned in a compact line following car.

---
Grove Zero Series Introduction:
Grove Zero is a set of programmable elctronic building blocks which snap together with magentic connections & are used in conjuction with graphical programming software to achieve creative and functional projects. Grove Zero can be used boths as a tool to foster children's creativty as a classroom tool for STEM education. Learn more about the series here.
If this is your first experience with the Grove Zero series, we recommend that you purchase introductory kits such as the Starter Kit, Car Kit or Bit Kit, which include instructional documentation to help you get familiar with this educational series.
Read further for more details about the product as well as the Additional Resources tab just below the scrollable images, and if you still can't find the information you need, contact us via our social media which can be found at the bottom of the page.
---
How It Works
The Color Line Follower contains one color sensor (the middle one) and four light sensors. Each light sensor is paired with a white LED which is located next to the light sensor.
The light emitted from the LED is reflected by the ground surface and then received by the paired sensor. By measuring the received light, the color sensor can detect the color of the surface while the light sensors can only tell if the surface is in deep color or light color. This is how a black line on the white surface is detected.
The sensors are placed in a row a certain distance apart. According to their position, and which sensor's relative feedback signal, the color line follower can figure out the relative position of the line (middle, left, far left, right, or far right).
---
Try it
Connect modules together as shown below, making sure the Color Line Follower is connected to the front of the Chassis. Purchase our Car Kit if you would like to implement this project!
Main Board BLE

Battery

Chassis

Color Line Follower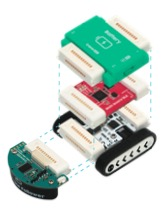 Real World Analogy

Line Following Robot
---
Technical Specifications:
Power Supply :Grove Zero Battery Module
Working Voltage: 5V
Working Current: 1.5A (Max)
Power indication LED
Other Details
| | |
| --- | --- |
| Weight | 10 (g) |
| Age for Use: | 6+ |
Programming Platform
Introduction:
CodeCraft is our graphical programming tool which brings hardware to life. Codecraft is regularly updated with demos and example projects to help you get your first project running ASAP! 
Recommended Ages: All ages
Features:
Easy-to-use and user-friendly; supports programming on a wide range of hardware and has various tutorials and projects for users; supports translation between block-based code and a text based code